SOUTH MORAVIAN region ČR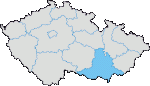 Chráněné regioninné oblastí:
Bílé Karpaty, Moravský kras s jeskyní a propastí Macochou, Pálava a Národní park Podyjí.
SOUTH MORAVIAN region (until May 30, 2001 as Brno region) occupies the southern and central part of Moravia; except for the settlement of Job Lhota (now part of the village Kněževes), which forms the historical part of Bohemia, or even the Valtice and the Dyjská triangle (since 1920 part of Lower Austria). To the west is a brief stretch of common border with SOUTH Bohemian Region, adjacent to the northwest Highlands region, in the north of the Pardubice region in the northeast of the Olomouc region and the east, Zlín region. To the southeast, bordering the Slovak regions Trenčínským (Trenčín self-governing region) and Trnavský (self-governing region of Trnava); bordered to the south of the Austrian province of Lower Austria (Niederösterreich).