Capital city of Prague - Czech republic - Praha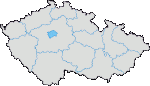 Prague is the capital and largest city of the Czech Republic. Situated on the River Vltava in central Bohemia, Prague has been the political, cultural, and economic center of the Czech state for over 1100 years. The city proper is home to more than 1.2 million people. Prague is widely considered to be one of the most beautiful cities in Europe and is among the most visited cities on the continent. [Prague city center map]
Panorama of Prague

History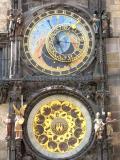 The history of Prague spans over thousands of years, during which time the city grew from the Vysehrad Castle to the multicultural capital of a modern European state, the Czech Republic.
The area on which Prague was founded was settled in ancient times since the Paleolithic Age. According to legends, Prague was founded by Princess Libushe, the sovereign of the Czech tribe which married a humble ploughman by the name of Premysl and founded the dynasty carrying the same name. Whether this legend is true or not, Prague's first nucleus was founded in the latter part of the 9th century as a castle on a hill commanding the right bank of the river Vltava.
The city flourished during the 14th century reign of Charles IV of the new Luxembourg dynasty. He ordered the building of the New Town (Nové Město) adjacent to the Old Town. The Charles Bridge was erected to connect the new district to Malá Strana. Monuments by Charles include the Saint Vitus Cathedral, the oldest gothic cathedral in central Europe, which is actually inside the Castle, and the Charles University. The latter is the oldest university in central Europe. Prague was then the third-largest city in Europe.
Sights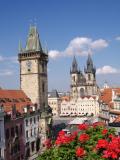 Since the fall of the Iron Curtain, Prague has become one of Europe's (and the world's) most popular tourist destinations.
It contains one of the world's most pristine and varied collections of architecture, from Art Nouveau to Baroque, Renaissance, Cubist, Gothic, Neo-Classical and ultra-modern. Some of the most known sights are:
Old Town with its Old Town Square, The Astronomical Clock, The picturesque Charles Bridge, New Town with its busy and historic Wenceslas Square, Prague Castle (the largest castle in the world) with St. Vitus Cathedral, the old Jewish quarter Josefov, National Museum, Vysehrad castle and many others.
We are offering you realistic presentations of monuments in our section
Videos of Czech republic sights