CENTRAL BOHEMIA region ČR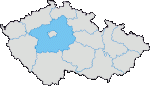 Vodní toky: Berounka, Labe, Jizera, Sázava, Vltava, Cidlina
Turistická místa: Svatý Jan pod Skalou, Přerov nad Labem, Karlštejn, Křivoklát, Koněpruské jeskyně, Konopiště, Kouřim, Kutná Hora, Okoř, Říčany, Poděbrady, Sázava (město), Český Šternberk
CENTRAL BOHEMIA region lies in the middle of Bohemia. Size , number of municipalities and population ranks among the largest region of the Czech Republic. Its total area ( 11,014 square kilometers ) accounts for nearly 14% of the Czech and is about 1.9 times larger than the average size of the region of the country.
Region completely surrounds the city of Prague and adjacent to the north of the territory of the Autonomous Region of Liberec , in the north of the Hradec Králové region to the east of the Pardubice region , with the south-east region of the Highlands , to the south of the South Bohemian region to the southwest of the Pilsen region and in the northwest Ústí region. At the same time adjacent to the South Bohemian regional , Western Bohemia , and the East Bohemian North Bohemian .
Territory belongs to the Bohemian Massif , which is one of the oldest parts of the European continent. regioninný relief passes from the flat north near the Elbe river in the highlands of southern and southwestern parts of the region . The highest point is the peak flow in Brdy Pribram district , is the lowest level of the Elbe in the district of Melnik .