Zlin region ČR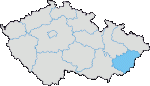 Vodní toky:
území regione odvodňuje řeka Morava a její přítoky, např. Bečva a Olšava. Morava se vlévá do Dunaje, který její vody odvádí do Černého moře. Okrajové části regione na severu (za hradbou Jeseníků) a severovýchodě odvodňuje řeka Odra do Baltského moře.
Zlin region is one of 14 higher territorial self-government units in the country, and the only exclusively Moravian region, and it forms the eastern part of this historic land. In the southwest SOUTH MORAVIAN region in the northwest of the Olomouc region, north of MORAVIAN-Silesian Region and the East with a Trenčínským the Žilina region) in the Slovak Republic.
Zlin region is a large protected area regioninného. Large areas include two regioninné protected area Beskydy and the White Carpathians, which comprise about 30% of the territory. White Carpathians are among six biosphere reserves in the country. In the region also boasts many natural reserves and natural monuments.